Locally Sourced Breakfast Ingredients Served Each Morning
Breakfast is included in your room rate for all of our guests! We prepare and serve a wide variety of locally sourced products sure to satisfy any craving you might have.   We choose to buy local to ensure the freshest of quality, and all of our eggs and meat come from Cedar Run Farms.
Items guests will enjoy every morning at Great Oak Manor:
Granola (made from a secret Great Oak Manor recipe)
Whole Milk & Lactose Free Milk
Fresh Baked Pastry
Honey Yogurt
Fresh fruit and berries
Assortment of Bagels & English Muffins
Homemade Blackberry Jelly
Meat & Cheese Platter
Farm Fresh Eggs
Farm Fresh Meats
We had fun learning more about Cedar Run Farm and wanted to share some of their story with you.
Cedar Run Farm
320 John Powell Road
Sudlersville MD 21668
Website
Marilyn and Lew Dodd run the family owned Cedar Run Farm and are proud to trace their farming roots back to the Revolutionary War times.  The farm where you will find them today in Sudlersville, Maryland was purchased in 1951.  Lew's family moved to that location in January 1952 when he was just 11 months old.  They have been farming that same plot of 92 acres ever since.  The fruits of their labors are evidenced by their production of a bountiful harvest for their family and community while showcasing the farm's richness and beauty.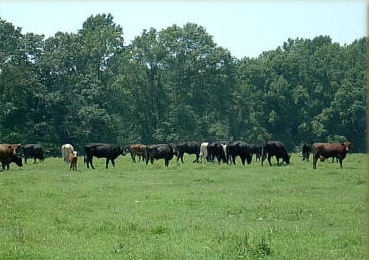 Their Animals:  The Dodd's raise their own beef cattle and sell USDA inspected, naturally fed, dry aged beef to their retail customers, neighbors and friends …
including Great Oak Manor.
We respect that their beeves are raised in fresh air, on native pasture, with salt, minerals and fresh water. Their cattle eat grass … just as nature intended … which gives their beef not only a rich flavor but extends healthful benefits to those enjoying the fine end result.  They do not use growth hormones, growth stimulants, artificial or antibiotic feed additives, which appeals to us and our guests alike.
What else do they raise within the same quality conditions?  Hogs, meat chickens and egg layers, as well as turkeys.  We invite you to visit their website to learn more about their natural and environmentally friendly farming practices and why we have chosen them as a purveyor of eggs and meats served here at Great Oak Manor.